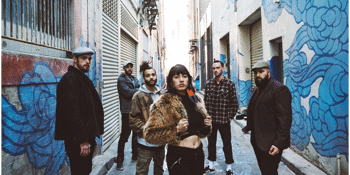 The Ilch Fest
Feat. The Big Ilch + Moondogs + Motherfunk + MAYA GLS (DJ set) + FLY WAVES (DJ set) + Lumi Spinners
Lansdowne Hotel (Chippendale, NSW)
Thursday, 6 September 2018 8:00 PM
The BIG ILCH Is a project, a collective, a group of artists that have come together to create the Big Ilch. Infusing their different styles of music, each individual adds to this one big melting pot of music. Soul, Funk, Reggae, Hip-Hop, Groove are all the ingredients needed to spice this musical pot up.

With a story to tell of a few friends, travelling the world, playing music together, recording, writing and performing side by side, over the last few years.

With lots of new music on the way, inspiration is coming from everywhere! Keep your eyes peeled and ears open, as The Big Ilch is back in townnnn!