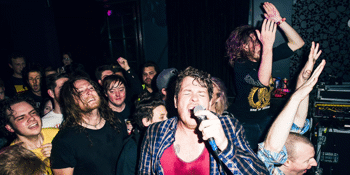 Skateworks presents
Skateboard Charity Extravaganza - Featuring The Songs Of Tony Hawk's Pro Skater
Performed by Birdman: Or The Unexpected Virtue Of A Tony Hawk's Pro Skater Cover Band with special guests Urthboy + Bloods + Gen Fricker + Le Pie + Palms + sleepmakeswaves
Lansdowne Hotel (Chippendale, NSW)
Thursday, 26 July 2018 7:30 PM
The world's premiere videogame soundtrack cover band, BIRDMAN: OR THE UNEXPECTED VIRTUE OF A TONY HAWK PRO SKATER SOUNDTRACK COVER BAND, today announce they will be performing a special, charity fundraiser extravaganza show this July 26 in Sydney at the Lansdowne Hotel.
The show will feature the original band, along with guest appearances on vocals from a cavalcade of local music stars, including Urthboy, triple j's Gen Fricker, Palms, Bloods, Le Pie, sleepmakeswaves and Beerwolf – who will also be playing support on the night.
The event will be a fundraiser for the Skateworks organisation, who work to provide children living in remote indigenous communities with skateboards and parts, as well as access to school holiday skateboarding workshops.
All proceeds from the night will go towards Skateworks and their upcoming programs. Punters are also encouraged to bring along their old, unused boards and trucks on the night, with which they can donate to the project.
After performing their first shows in 2017, BIRDMAN: OR THE UNEXPECTED VIRTUE OF A TONY HAWK PRO SKATER SOUNDTRACK COVER BAND has gone from being a funny idea amongst friends to becoming one of the country's most popular nostalgia acts, performing timeless songs from the classic THPS videogame series soundtracks, including hits by Motörhead, Goldfinger, Suicidal Tendencies, Rage Against The Machine, The Ramones and more. Their raucous, hilarious shows have seen them grace the stages of Secret Garden Festival, Vivid, Octoberwest, PAX Videogame Conference, and have received attention from major media outlets, including Pedestrian, triple j, Music Feeds and The Project.
They're now looking to use their surprise popularity to raise funds for a great cause, along with help from some of the country's best musical talent and performers.

BIRDMAN: OR THE UNEXPECTED VIRTUE OF A TONY HAWK PRO SKATER SOUNDTRACK COVER BAND says, "We really hope fans of the band, the music we play, and all the wonderfully talented people volunteering their time to come rock out with us will come along to help raise some cash for this awesome cause. Skateboarding and skate culture has brought us a lot of joy throughout our lives, and we really want to see these kids, who may not have access otherwise, realise the benefits of skateboarding as well."
BIRDMAN: OR THE UNEXPECTED VIRTUE OF A TONY HAWK PRO SKATER SOUNDTRACK COVER BAND SYDNEY SKATEBOARD CHARITY EXTRAVAGANZA SHOW
Thursday, July 26, The Lansdowne Hotel, Sydney
Pre-show tickets - $15
Door tickets - $20